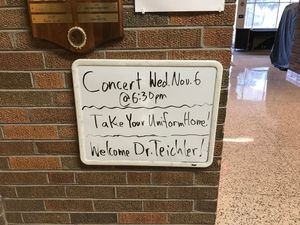 On Wednesday, November 6, I went back to my old junior high in the Chicago suburbs for the premier of my newest band piece, Gateway Overture. Blackhawk Middle School (Bensenville, IL) and director Mr. William Winters commissioned the piece, which included some video chats with the students in order to get to know them and the kind of piece that would most interest them. I took suggestions, listened to pieces they previously enjoyed playing, and based most of my musical decisions off of their feedback. It was a fun process! When I went to visit the school, I was able to work with some of the players on my piece and the two others they were performing on the concert. It was a fun process! 
I will continue to work with some of the students in the next couple of weeks, as I will be giving them feedback on their own compositions/arrangements! I'm looking forward to seeing what they come up with, and encouraging them to continue making/performing/creating music!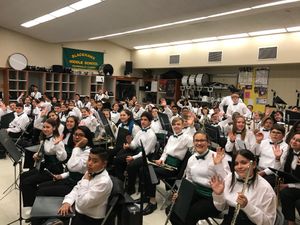 Thank you again to Mr. William Winters for the opportunity!!