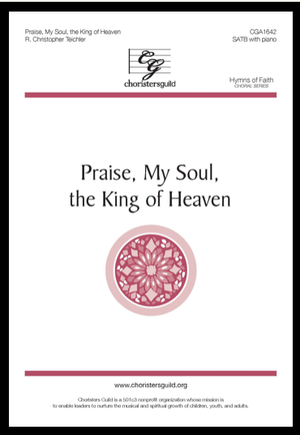 I'm very happy to announce the release of "Praise, My Soul, the King of Heaven" from Chorister's Guild! For SATB and piano, I composed this anthem for a consortium of 10 churches a couple years back, and I was quite pleased with how it turned out, and was thrilled when CG accepted it for publication. They give the following description:
This exciting anthem for Christ the King Sunday is a stunner from start to finish! Composer Christopher Teichler sets this familiar hymn text to a lilting new tune, which bursts with joyful praise. A driving, rhythmic accompaniment underscores the vocals, which alternate between strong unison singing and full harmonic cadences. An impressive piece for a festival day!
In addition, J.W. Pepper has listed it as an "Editor's Choice" selection, which is always exciting and humbling. 
Click here to preview the anthem. Once choirs are able to gather again, I hope that you can give this piece a look!